From Kathmandu, we took a one-hour flight on a small Beechcraft to see the legendary Mount Everest! We flew this and two other times with Buddha Air. Can you imagine such a thing in the USA? How about Jesus Christ Airlines? As someone we met pointed out, just think about the ad possibilities!


| | |
| --- | --- |
| | |
| The plane | Inside, all window seats |


To get back to the subject... The flight left about 07:00 (we had breakfast afterwards), so we could get to the mountains before the clouds came in. And the mountains were there! We were once again astounded at their height. It's like taking the Alps and stretching the Z-axis so that that everything is almost twice as high: Mont Blanc is 4810m high; Everest is 8850m!




And then, there was Mount Everest, the only mountain whose peak reached into the clouds. You can understand how the Hindus see mountains as sacred, linking the earth to the heavens. It was a real thrill for us.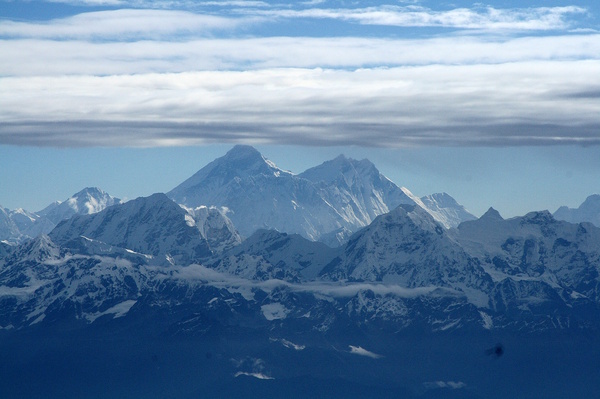 Mount Everest!



Years ago, when we heard that an Austrian friend had been to Nepal, it seemed like a dream, something we would never do, especially since we were thinking mainly in terms of mountain climbing. But we saw it!

Veni, vidi

. No, no

vici

.

On the flight back, with the sun now up, there were lovely views of the green, terraced fields of Nepal.


| | |
| --- | --- |
| | |
| Town and fields | Terraced fields |

Continue onwards to Patan.

Back to home page/accueil or to Nepal India tour