The Scottish Highlands 2006 - Part 1
July 7 - 21
Lochs Lomond, Long and Fyne




A view of Loch Lomond, probably the most famous of all wonderful Scottish lochan


Go to Map of Scotland 2006



July 7


Our first traveling day in the year of visiting, mostly, the county of Argyll


(see map below)


We began our tour along the West coast of Scotland in Glasgow this year.
We never got to know Glasgow though, since we were staying in a hotel in Paisley very close to the airport and also close to the exit towards the north and Loch Lomond, where we were going to start our trip.


Bonnie Banks O' Loch Lomond
Oh ye'll tak' the high road and
I'll tak' the low road,
And I'll be in Scotland afore ye
But me and my true love
Will never meet again
On the bonnie, bonnie banks o' Loch Lomond.

| | |
| --- | --- |
| | |
| Loch Lomond, the fairy lake - and of course we had 'Bonnie Banks O' Loch Lomond' in our heads | Close-up of the craggy mountain peaks off Loch Long (as in pan below) |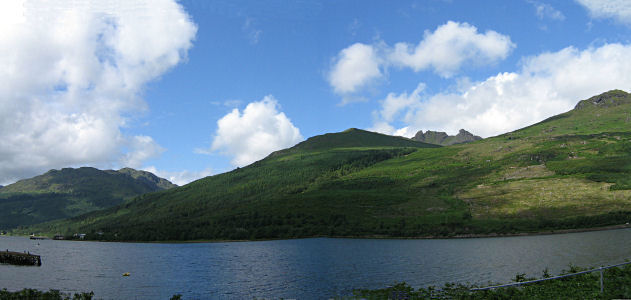 Looking west over Loch Long on our way towards Loch Fyne
| | |
| --- | --- |
| | |
| A detailed view north from 'Rest and be thankful' (see below) | We were to see beautiful digitalis all over the countryside on this trip |

West of Loch Long
as you start descending towards Loch Fyne, there is a beautiful rest stop called 'Rest and be thankful'. We did and we were.
The famous Loch Fyne Oyster Bar which has grown into a well visited restaurant and store, specializing in delicious salmon, oysters and various fish delicacies.
After our delicious smoked salmon and
other delicacies, we were served a sweet local candy called tablets. Obviously we had to buy some on our way out.
| | |
| --- | --- |
| | |
| We picked the month of July this year, to see if we could get to see rhododendron and heather in the same season. Not really, but we did see some of each. | Close-up of rhododendron flowers in this park, the Ardkinglas Woodland Garden, one of 'the glorious gardens of Argyll and Bute' |
| | |
| Abies alba, silver fir | One of the famous champion trees, the biggest one in UK, the mightiest conifers in Europe, in Ardkinglas Woodland Garden |

"The Garden is set on a hillside overlooking Loch Fyne and contains one of the finest collections of Conifers in the British Isles including many Champion Trees. These include the "Mightiest Conifer in Europe" dating back to 1750, Abies alba, a monstrous Silver Fir with a girth in excess of 31 feet (9.6m) which was selected as one of 50 Great British Trees to celebrate Queen Elizabeth II's Golden Jubilee."

Go to Scotland - Part 2

Go to Scotland Site map