Scotland 2006 - Part 2
Kilmartin Glen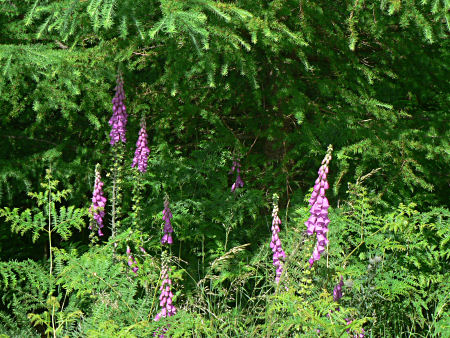 Digitalis seen on our walk to Achnabreck rock drawings
July 8 - 10
"The Kilmartin Valley is one of the richest archaeological areas in Scotland, with over 350 prehistoric and historic monuments concentrated within a small area."
| | |
| --- | --- |
| | |
| The village of Kilmichael in Kilmartin Glen | Pleasant walk to the Achnabreck rock carvings |

"5000 year old cup and circle rock carvings at Achnabreck in Kilmartin Glen in Scotland."

"Cup and Ring marks or other Rock Art in Argyll. There are three cup-and-ring marked outcrop rocks at this largest and most extensive group of prehistoric rockcarvings in Scotland. The site is in the care of Historic Scotland. The site also boasts the largest cup-and-ring mark in Scotland."

"This is part of the most extensive group of prehistoric rock carvings in Scotland. The most common motif is a hollow or cup surrounded by up to seven rings, often with a gutter running from the cup outwards. Other figures include spirals, multiple rings, peltas, ringed stars and parallel grooves."






"Ancient art at Achnabreck - The reward for your walk is the most extensive and impressive group of pre-historic rock-carvings in Scotland"

Cup and ring markings of different types


"The decoration on this rock surface (and the one above) is about 5,000 years old. ... The hollows and rings were pecked out of the rock with a stone hammer."
(text on Achnabreck info table)
View from just beyond the rock carvings with the far-away Loch Fyne in the background
| | |
| --- | --- |
| | |
| The heather was starting to bloom, more for every day of our two-week stay | Orchids were ubiquitous, mainly the white variety |


Going north a mile or two from the town of Kilmartin, there is the quaint old ruin of Carnasserie Castle.


| | |
| --- | --- |
| | |
| Arriving on a rainy morning at the ruin of Carnasseme Castle | Siv is resting while John checks out the upper floor -- and Siv |


A morning's excursion from Kilmartin Glen down south along Loch Fyne to the picturesque town of Tarbert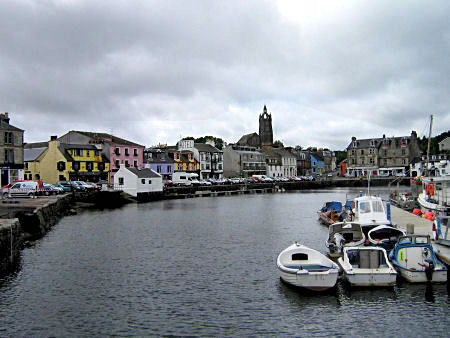 Detail of the water front of picturesque Tarbert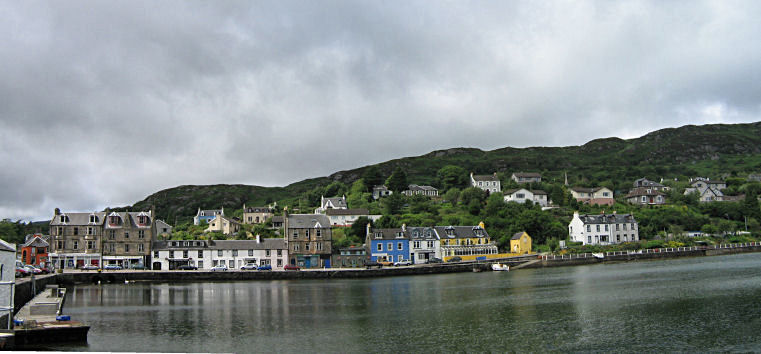 Wide view of the water front in Tarbert on Loch Fyne
| | |
| --- | --- |
| | |
| Colorful house fronts in the main street of Tarbert | View from the hill up above Tarbert |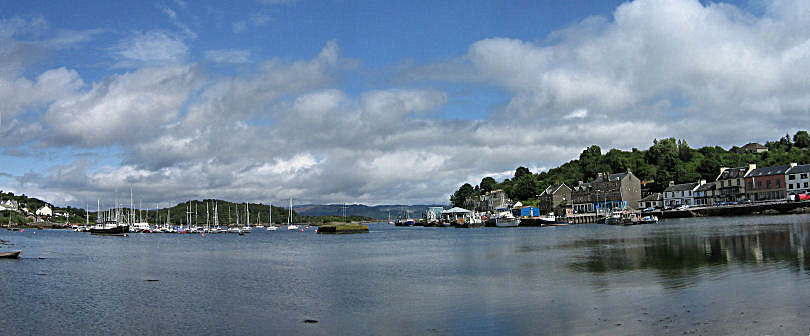 Water front and harbor of Tarbert
View of Tarbert from up the hill above the town
| | |
| --- | --- |
| | |
| View of the harbor off Tarbert | Heather just opening up amid the remains of Robert the Bruce's fourteenth-century castle |
We drove along beautiful Lake Fyne on our way back to Kilmartin Glen


We walked out on the stony beach of Lake Fyne on our way back

Go to Scotland - Part 3

Go to Scotland Site map