Ireland, 14-28 June 1997
In June of 1997, we spent a memorable two weeks in Ireland, south and north. Here's our report on that trip. Items in italics are from the original trip report written in the fall of that same year, 1997.
The first day, we arrived by charter in Shannon, rented a car and set out on the "wrong" side of the road. As we wrote in 1997:
Driving on the "wrong" side of the road definitely takes getting used to. It's not just the side of the road, it's also that the gear shift is on your left, which makes it complicated to manipulate the gears and the turn indicator at the same time. But the most serious and most fun challenge to driving is learning rather precisely where the other side of that bloody car is, because you need to know! Many of the roads are narrow and winding, with hedges or walls that come right out to the roadside, so there's no shoulder to get off onto in case of emergency. The main roads, tho, often have an exterior secondary lane where a car can move over to let another one pass him, like they do in Sweden. I, John, finally got pretty much used to it. So much so that, here at home, I frequently reach out to the left and open the window instead of changing gears.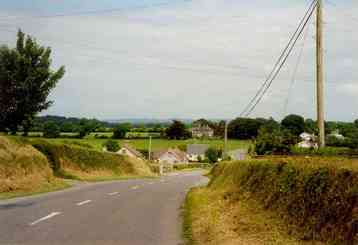 We drove thru Limerick (Luimneach, in Irish) and Tipperary (which wasn't far at all), then drove a few kilometers down a side road to visit the ruins of Athassel Abbey.
| | |
| --- | --- |
| | |
| Siv looking across the Shannon to Luimneach Castle | All that's left of Athassel Abbey |
Then on to our first B&B in Cashel, where we were greeted by a friendly, "Hello, I'm Peggy". That evening, we visited the Rock of Cashell, which is a very beautiful and impressive rock indeed.
| | |
| --- | --- |
| | |
| The Rock of Cashel | A real, delicious Irish breakfast |
The next morning, we (especially John) enjoyed our first, and one of our best, Irish breakfasts.
Leaving Cashel, we had our first experience which led to the following lines in our report.
We adored the constant (well, almost) friendliness of the Irish. Many times, someone asked us, "Ye're lost aren't ye?" (Indeed, we were!) and then went out of his way to show us how to get where we wanted to go. (By the way, the plural of "ye" is "yeez".)
Concerning Irish accents, we were told by the immigration officer at our arrival that we'd be hearing lots of them. Was he ever right. Still, we managed to identify several characteristics of Irish pronunciation, for instance:
Dublin is pronounced roughly "Dohblin".
The "r" is clearly and distinctly pronounced but without being rolled or throaty.
The pair "gh" may be pronounced like the "ch" in Bach (as in Ballyvaughan, which has 4 syllables, or Drogheda) or like a "k" ("Lough" is pronounced either like "lock" or like "loch", depending, we suppose, on the region.). At the end of a word, such as Kavanagh, the gh is not at all pronounced. It just makes for a long ah sound.
An initial "th" is often pronounced "t", so "thought" becomes "taught".
The stress is always on the first syllable of a word, so "Drogheda" is "DRO-che-da", not "drog-HEED-a", with a throaty "ch" as in "Bach".
Irish spelling, tho, is something else for a non-native. We learned to pronounce a few words, but not many.
We drove to Kilkenny, where we stopped for a look and then on to beautiful Jerpoint Abbey. Then we drove to our B&B in the northern suburbs of Dublin.
| | |
| --- | --- |
| | |
| Kilkenney | Jerpoint Abbey |
The next day was one of the high points of the trip: 16 June 1997, Bloomsday!
We loved Bloomsday, the celebration of the day (16 June) on which the action of Joyce's Ulysses takes place. It's half carnival, half literary celebration. We don't know of any other country that goes to such lengths to celebrate their authors and in such a popular way. Initially, we were disappointed, as neither our hostess nor the American girls at breakfast knew anything about it. Then we got to the DART station and the friendly ticket seller (whom we'd already met the evening before) asked us if we knew it was Bloomsday. Wonderful! It was on his advice that we went directly to Sandycove and the Martello Tower and got caught up in the event. It's a real fête, with people wearing period costumes and running all over Dublin to try to follow Mr Bloom's itinerary; free (or not free) readings and discussions, etc. When we arrived at the Martello Tower at Sandycove, we were quite surprised to find the roof full of people, standing and sitting, listening to someone (anyone) give a reading. Then a real actor arrived and read the chapter in which Stephen meets his employer at the boys' school. He was wonderful, looking people in the eye as if they were the characters he was addressing. The same actor did a summary of Mr Bloom's part in the book at a bookstore later and was just as good. Deliteful and amazing. At the James Joyce Centre a couple of days later we talked about the readings to the 'boss' of the center, who is likely a descendant of Joyce. We said that we had enjoyed it enormously and how funny it was too. He said "Oh yes, it has to be funny". Extremely nice man. In the library we were allowed to take out any book and look at it. Siv took out a copy of a Swedish translation of Ulysses and an original version to compare them. She established the fact ("That's the way I am!", says Siv.) that Joyce cannot be translated into Swedish and we think maybe not at all. The music is lost.
Sandycove, the Martello Tower
Bloomsday festivities on the Martello Tower -- a reading from

Ulysses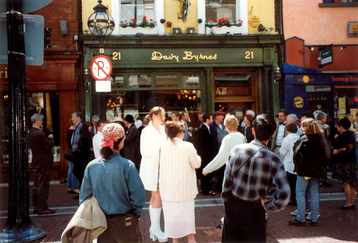 Davie Byrne's pub on Bloomsday, the pub where Mr Bloom stops for a gorgonzola cheese sandwich and a glass of burgundy
| | |
| --- | --- |
| | |
| Mr Joyce's statue, Talbot Street (I think...) | The original entrance to 22 Eccles Street, now in the James Joyce Center |
During our stay in Dublin, we walked around a lot. We visited Trinity College, where we saw the incredibly beautiful Book of Kells, the atmospheric Long Room and Ireland's oldest harp. By the way, the Irish Republic has always had the same symbol on their coins, an Irish harp. And they've remained faithful to their principles: The national side of all Irish euro coins proudly displays the Irish harp. The Irish claim that they are the only country with a musical instrument on their money.
| | |
| --- | --- |
| | |
| Grafton Street | Trinity College |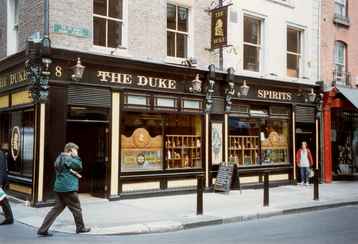 The Duke Pub, in Duke Street, which we adopted as our "canteen"
We spent a wonderful evening at the theater.
We were particularly happy with our evening at the theater (or should it be theatre?), the historic Abbey Theater, at that. We didn't know the author, Patrick Kavanagh, but we'll certainly be reading him soon. The acting and directing were both wonderful. At one point, some of the actors were playing the parts of chickens in an astoundingly lifelike and humorous way. Lots of stage action and, of course, the wonderful Irish way of speaking. And funny where someone else would be tragic. Humor puts the idea across too. We'll go there again the next time.
We also visited the National Museum, with beautiful celtic artifacts and moving pieces from the Irish war of independence.
At the National Museum, we loved the Celtic jewelry and artifacts. We also liked the canteen. J Leaving that, we went thru a hall we hadn't intended to see, devoted to the Irish rebellions from the 1916 Easter Uprising thru the creation of the Irish Free State. We looked at it in great detail. We'd just seen the movie, "Michael Collins", a month ago, so all this was sort-of in our heads already. Plus, Siv was reading Woodbrook, by David Thompson, on the same subject, and I, a history of Ireland. One evening, as we were reading in bed, we discovered we were reading the same words, quoted in each of our books. This felt good to us, independently of the subject.
Alas, we had to tear ourselves away from Dublin and move on to prehistoric and celtic Ireland.

Links to Ireland pages:

Back to Bienvenu-Welcome