Varanasi -- boat rides on the Ganga:
(2) From Dashashwamedh Ghat to the Alamgir Mosque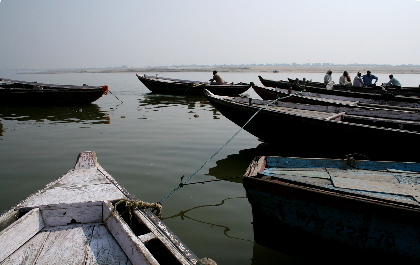 Boat leaving Dashashwamedh Ghat


Wanting to see parts of Varanasi which lie farther north than we had yet been, especially Aurangzeb's Mosque, we took a rickshaw to centrally-located Dashashwamedh Ghat and the boat from there. Just north of Dashashwamedh are the palace of Jai Singh and then the home of the Domraja, the king of the Dom caste who do cremations.


Jai Singh's Palace (light building)
and observatory
The Domraja's dwelling


Several hundred meters farther on is Manikarnika Ghat, the main cremation ghat in Varanasi. Here, members of the Dom caste (a subset of the Dalit) carry the wrapped bodies of deceased Hindus to be dipped in the sacred Ganga and then burned, providing release to their souls from rebirth and allowing them

moksha

(transfer to heaven). Tourists are not allowed to stand on the ghat and may only watch the proceedings from the balcony of the beige-colored building in the middle. A great deal of wood is used and its price is prohibitive to poorer families.


Manikarnika Ghat
Notice the huge piles of wood
A corpse wrapped in orange-colored cloth
is bathed in the sacred river...
... and carried back to shore as another awaits
We continued on northwards to Panchganga Ghat, the site of the Alamgir Mosque, built by the Mughal Emperor Aurangzeb on the site of a Hindu temple he first destroyed.


Panchganga Ghat and the Alamgir Mosque
There are many steep steps up from the river
to the level of the Mosque
Alamgir Mosque

All that is left of the original temple destroyed byAurangzeb are the two statues on either side of the door to the current temple. The little square in front is quite charming, calm and somewhat shadowy, a rare thing in Varanasi.


The current Vindu Madhan Temple and its door flanked by two statues...
... of Garuda, Vishnu's bird mount, ...
... and of Hanuman, the monkey god

On the top of the temple building, there was some sort of work being done on the roof. As usual in India, it was done by hand.


| | |
| --- | --- |
| | |
| Renovating a roof | Carrying stones the hard way, in sandals |

From the boat on the way back to Dashashwamedh Ghat, we watched the always fascinating activities of folks along the ghats.


Hold your nose...
...and plunge!
A libation for the holy river at the sunken temple
They swim in it too
The baskets on the poles hold candles
in the evening
Happy boaters

There are some more interesting and varied photos from Varanasi.

Or go back to India 2007 or Varanasi