Tour of Northern India,
October 2007





This year, we wanted to see the Taj Mahal, which we missed last year in spite of having seen the other two points of the "Golden Triangle" -- Delhi and Jaipur. More importantly, though, we wanted to see the Himalayas!

Before going, we read William Dalrymple's The Age of Kali and we agree entirely with him when he says, "From my first visit to the region as an eighteen-year-old backpacker, I was completely overwhelmed. India thrilled, surprised, daunted and excited me. Since then it has never ceased to amaze..." Well, we almost agree: We were never backpackers and we were some 50 years older than he when we first visited the subcontinent. But the words, "thrilled, surprised, daunted and excited" are a perfect description of what we felt.

This year's trip started with a mostly Muslim group of sites:

Then we passed four days in Sikkim, a predominantly Buddhist region:



Below the map are a few tips for any of you who may be planning your first trip to India.

Alternatively, you can click on the map to go to a destination's pages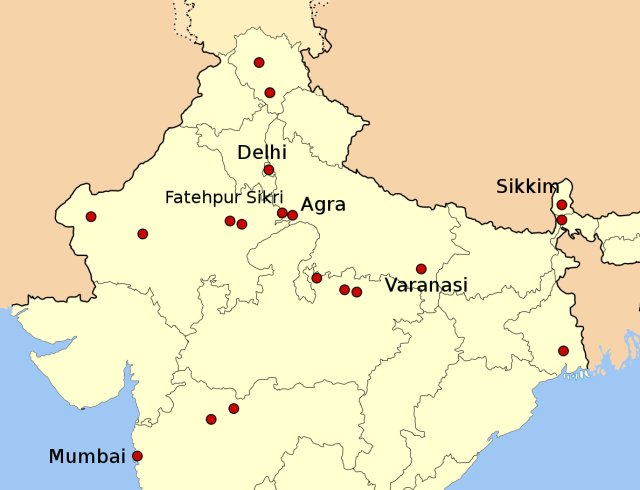 Siv's and John's tips for would-be travellers to India:
As soon as you arrive in your hotel, make sure that there are clean bottom

and

top sheets on the bed(s).
At the same time, make sure you have a western style toilet and plenty of toilet paper.
Don't forget bottled water either, also for tooth brushing. Never ask for ice cubes in drinks. Only bottled drinks!
Ensure that the water heater is turned on.
In case there is no electricity when you get back to the hotel room, you should know that most hotels have a master switch in the hallway right beside the door. Make sure it's on.
For more info on schedule, hotels and so on, check our itinerary.

Hope this helps...

Back to home page/accueil