June 11

A drive west, first to visit the ancient dwelling of Dun Beag.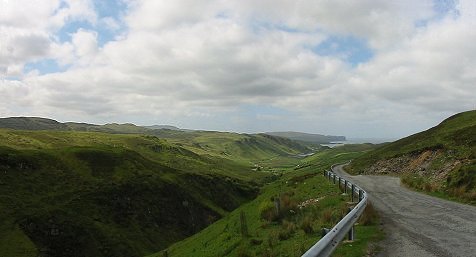 On this scenic road leading to Dun Beag we were amazed at the absence of cars - and of billboards! We did not see one billboard on the whole trip, not this year and not last year. What a paradise! We left Portree in the midst of a beginning Marathon and here we are approaching the western side of the Isle of Skye. We knew before the marathon had started who was going to be the winner. We had seen him

running

up the 400 m climb to The Old Man of Storr on the previous day!




A part of Dun Beag iron-age Broch at Struan.
"The remains of the broch of Dun Beag lie on the west coast of Skye. In relatively good condition, the walls of this broch still stand up to 16 feet high."
"...that wonderful stairway in Dun Beag, displaying the skilled construction by the ancient builders."


Peaceful view of the sea taken from Dun Beag over Loch Bracadale on the west coast of Skye.

After a visit, which was a guided tour, of the
Talisker Distillery
, we drove south to Glen Brittle, mainly wanting to see the Black Cuillins from the back. We did buy, after the tour, a 10-year-old bottle of Tallisker Scotch, only to find it in our supermarket at home in our Lyon suburb, at a somewhat lower price!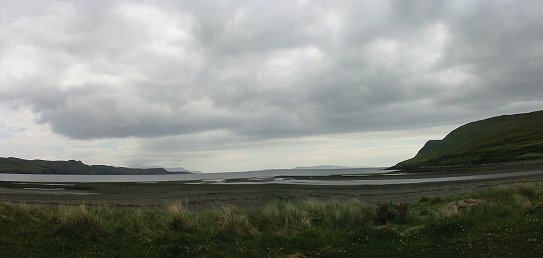 A view over Loch Brittle, the Cuillins out of sight on the left.

The Black Cuillins seen from the back as we return from Glen Brittle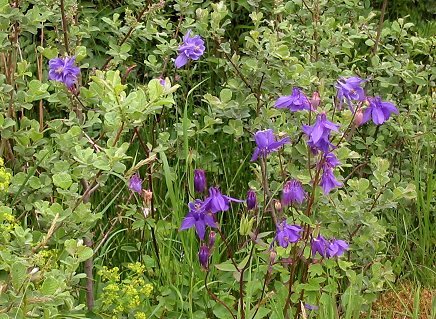 Wild columbines by the roadside coming back from the Cuillins. They are less purple,
lighter colored than the ones we are used to in the low-lying forests in the Alps.