The sun was showing signs of coming out of the still heavy clouds and we could even begin to see shadows. In the morning
We decided to make a beautiful side trip to a much visited mountain pass.
"The road passes the infamous Bealach-na-Ba or 'Cattle Pass', at a height of 629 metres."
(from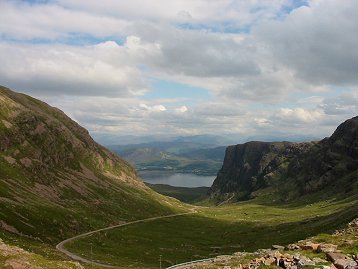 Highlights of Scotland
)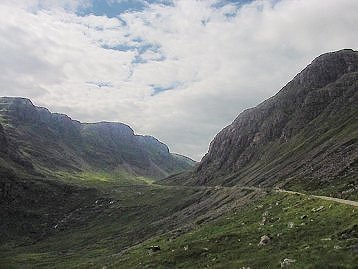 "The road from Tornapress (
on
the
A896, north of Kyle of Lochalsh)

to
Applecross is most dramatic, w
ith steep gradients up to 20% and hairpin turns like those in the Alps." (from
Highlights of Scotland
)
As you can guess from the
pictures, we fell in love with the place and had a hard time tearing ourselves away from the gorgeous
Bealach na Ba cattle
pass.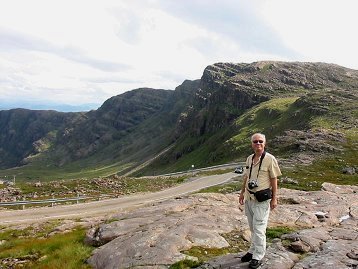 We drove north again
from Tornapress
along the gorgeous valley of Glen Shieldaig. We arrived in
Shieldaig on the Loch in the evening and were lucky to find a friendly and comfortable atmosphere at the Rivendell Guesthouse, and even a good dinner that evening. I had my fill of big shrimp (scampi) in their shells. You eat them in about the same way as we eat crayfish in Sweden, with your fingers - and not to worry about the way it looks.



Shieldaig on Loch
Shieldaig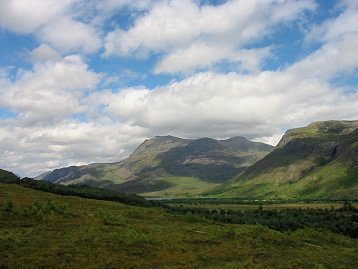 Day 3



The next day we continue north along beautiful
Glen Torridon
and then westerly along the Loch Maree towards our first three-day goal, Gairloch.
A short walk from the Beinn Eighe (pron. Ben Ay) National Nature Reserve takes us on a round trip - where we first realize that there are oodles of different varieties of heather.

"Two walks on Beinn Eighe, with stunning views of Loch Maree and Slioch. Both trails are on good paths, so stout shoes or boots are adequate for these walks." ...
"Beinn Eighe Woodland Trail
:
This walk takes you through one of the most important nature conservation areas in Britain. It was established by the Nature Conservancy Council to help preserve the natural Caledonian pine woodland on the south-west shore of Loch Maree. The path is a circular one, with a viewpoint overlooking Loch Maree, Slioch and the Letterewe oakwoods."(
Walking in Scotland
)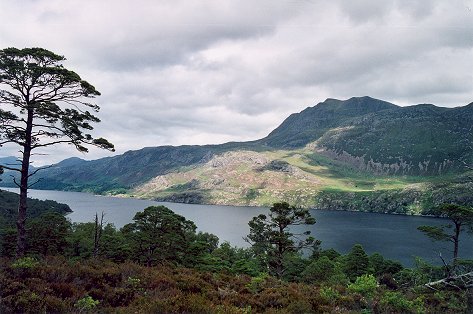 Mount Slioch seen across Loch Maree, with the gnarled Scots pines on the south bank of the loch in the foreground.






A view of beautiful

Loch Maree from the edge of

the lake, across from the 'Visitor Centre'. The south slope of Mount Slioch and Beinn a' Mhuinidh

in the background.


Siv is resting down by the lake.



And here we are arriving in Gairloch
on Loch Gairloch.

We got to the house

where we had reserved a room,

up the hill from the main street. The most wonderfully nice lady greeeted us. She showed us around and told us we would be welcome to have a cup of tea in the living room after we had gotten installed in our room.

What a welcome! That's a B&B for you!

Next -
Part 2
Go to Site map
Go to Siv's and John's home page