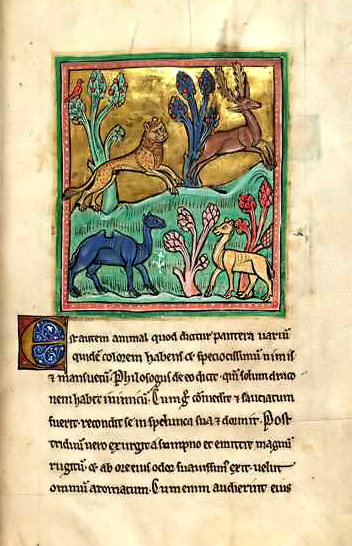 A page from the Rochester Bestiary, courtesy of Wikipedia
Unlike classical bestiaries, there are no moral lessons associated with these pictures. (Maybe you can think of this as a post-modern bestiary.) But they are shots of some of the more interesting beasts we've seen over the (we won't tell you how many ...) years. We got the idea for this page from a friend who has done some very helpful research on these beasties and so we want to thank her for it. There ya go, Betsy.
We'll start with birds.
We know what this one is. There's a brief story which goes with him. though. We saw him in India at Khajuraho in February 2006. Back home, we looked him up and easily found out he is a hoopoe, of which we'd never heard before. Must be rare in Europe, though they do come here to nest. Then, a bit later, there was one in our back yard -- the only time we've ever seen one in Europe, none since. Then in April 2007, we went to Egypt and learned that he's a legendary bird there.
Hoopoe in Khajuraho, Feb 2006
Hoopoe in Genas, April 2006
On the wall of this little nubian museum
on the Elephantine Island in Aswan
(Egypt) ...
...we saw this panel explaining that "the
hoopoe was the messenger between King
Solomon and the Queen of Shepa [sic]"
This one was our mystery bird for almost two years before our official identifier came up with his name. We saw him in the park at Khajuraho, too. He is an Indian roller, although he used to be called a Blue jay.
Handsome birdy
And look at the wingspan on that ...,
even if the picture is blurred
There's a bit of a story about the Indian roller too. He's known for his beauty in flight but even more for his wild athletics during courtship. (Maybe that's where hip-hop came from.) Also, according to indiasite, Hindus believe that the god Vishnu once took on the form of this bird and so consider it to be sacred. In some parts of western India, the bird is captured and then released on a festival day.
Our official avian identifier also found out who another former mystery bird is.
There's a good, but somewhat difficult-to-use site for Indian birds called Birds of India (logically enough).
By far the funniest and cutest birds we've seen in the wild (very wild, actually) were the puffins (Atlantic puffins) we saw on the Island of Lunga off the west coast of Scotland in July 2006.
All those specks are birds!
Masses of guillemots
A guillemot in the foreground
Razorbill
John is certain this is the only red-thatched
swedebird he has ever seen - definitely
a she, in spite of the colorful plumage
But here are the stars ... the puffins!
Puffin family
Ever have the feeling you're being
watched? (Subtitle: This is a
watchpuffin watching you...)
Puffin on a rock
Puffin with lunch
The colorful bills indicate that we saw them during the breeding season, which is presumably what they were doing on these rocks.
Meanwhile, back in a warmer clime, we saw all these birds in India in 2006, in the courtyard of our hotel in Jaipur (Rajasthan).
Other Indian birds from 2006, seen in Delhi or Varanasi.
Green parakeets near Humayun's Tomb
In the same park, these look like mynas
too, maybe common mynas
These are particularly nice-looking crows,
house crows, in fact
These guys were all over the boats along
the ghats in Varanasi -- bank mynas
To be continued...