The next day, on our way to Shannon to catch our plane home, we made a short side trip to visit Thor Ballylee, the tower home that Yeats offered to his wife, George, with the lovely inscription on the wall.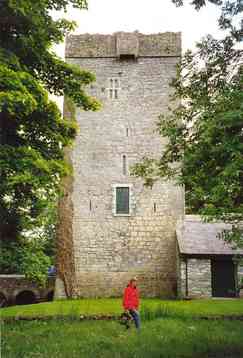 I, the poet, William Yeats,
With common sedge and broken slates
And smithy work from the Gort forge,
Restored this tower for my wife George;
And on my heirs I lay a curse
If they should alter for the worse
From fashion or an empty mind,
What Raftery built and Scott designed.
The curse seems to have had its effect. Thor Ballylee is still peaceful and lovely. We hope that all of Ireland will be one day soon.
At the end of our original report, we wrote:
Ireland is marvelous. We love it and intend to go back.
Back
to Ireland 1997.

Links to Ireland pages:
Back to
Bienvenu-Welcome