Our day at the Zoo and a couple of other places is quite a story. We first tried to get a driver from the taxi parking area to take us to those places, but his price was so ridiculous that we gave up on him. Plus he barely spoke any English at all. It was a Sunday and the tourist office across from our hotel was abandoned by the only person who spoke English there.

We took a walk in the morning downhill through the main street and through the descending street that made up the market. On our way there we passed by the state tourist agency where the people were extremely friendly and spoke excellent English. We mentioned the price we had been offered by the taxi driver and the man behind the desk said it was far too much.

But wait a minute he said. I could take you there in my car if I can get a replacement here. But it's a very small car, he warned us. It was all arranged. A friend of his arrived and we set out in his fine little car, not at all minuscule. We started out with the Zoo, which was a lot more walking around than we had ever imagined. We must have walked kilometers inside the Zoo, uphill and downhill. Our man was clearly an animal lover and he proudly introduced us to all the different kinds of animals, big and small. I don't think we skipped any. He later told us that he used to be a guide for treks in the mountains and would like to do that again. He also gave us a long explanation of the different schools of Buddhism.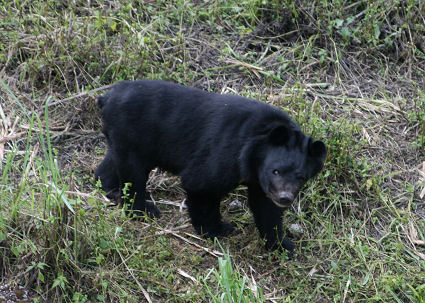 Himalayan black bear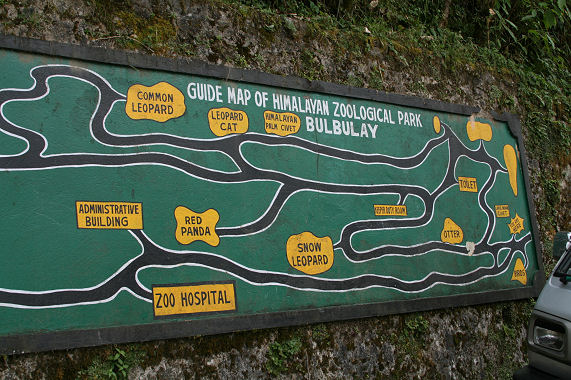 A map of the whole zoo, which turned out to be very useful - even for our knowledgeable guide.
It was quite a long walk from the parking area to our first goal, which was the Himalayan black bear, but he was a gorgeous brute.
Fancy birds and plumage
This was the only view we ever got of the
snow leopard
Our first view of a palm civet
More palm civets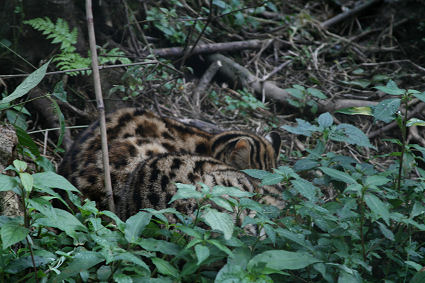 Leopard cats - wonderfully soft-looking kitties
"Common" leopards - gorgeous cats
Himalayan red panda - different from the Chinese black and white panda.
There were at least five of them and they kept playing, climbing trees
and having a lot of fun.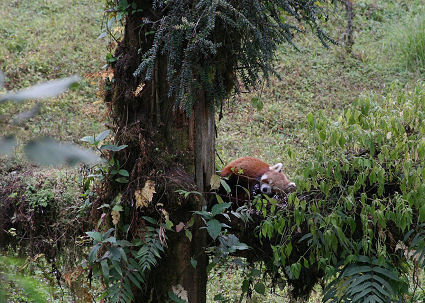 On our way back we got a better look of one panda
Himalayan wolves on top of (and on the side of) their cave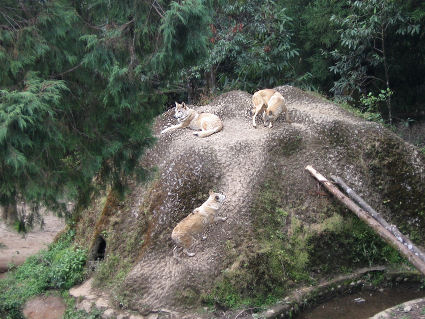 Gorgeous surroundings for the Himalayan wolves


On our way to the Zoo, we stopped at the Ganesh Temple and other than the wonderful elephant god Ganesh with a man's body an an elephant head, there is also a wonderful view over the far-away valley and upper Gangtok from there.


The entrance to the Ganesh Temple and
prayer flags galore
The Hindu God Ganesh with his
elephant head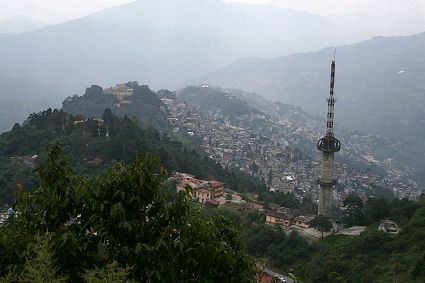 View from the terrace outside the Ganesh Temple
Back to India 2007
Back to home page/accueil