Jaipur, the Pink City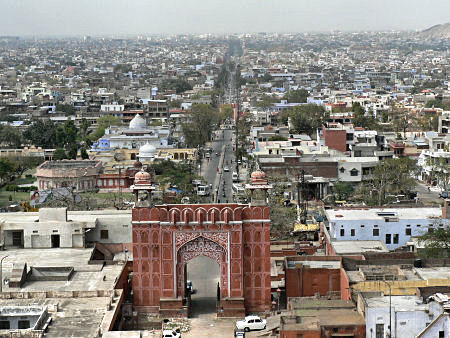 Jaipur and the South Gate seen from our walk up to the Monkey Temple



Jaipur was built starting in 1727 by the Maharajah Jai Singh II, who lived before then in Amber Palace. In 1876, Maharajah Ram Singh had the old city painted pink, a color which gives it its nickname even today.

Arriving in Jaipur was a real pleasure. Even the airport is nice, new and small and not crowded. We went straight to our chosen hotel, the Hotel Bissau Palace, which we highly recommend. Not only are the staff friendly and courteous, the place itself is a beautiful, calm island in the middle of the city's bustle. The garden is a veritable oasis, where one sees peafowl, all sorts of birds and -- once, for us -- even monkeys.



| | |
| --- | --- |
| | |
| Hotel Bissau Palace | Inside the hotel |
| | |
| Peafowl in the hotel garden | A visitor |


The hotel is only a five-minute walk from one of the gates to the "Pink City", where an enormous market is located, selling fruit, vegetables, clothing, enormous padlocks (like the ones we had on many of our hotel rooms, though not in Jaipur) and almost anything else you could imagine.



| | |
| --- | --- |
| | |
| Gate to the "Pink City" | Market |
| | |
| Hawa Mahal | Inside the Hawal Mahal (See the tourist?) |


The big thing to see inside Jaipur is the City Palace complex, including the Hawa Mahal, the observatory and the City Palace itself. Built in 1799, the Hawa Mahal, or "Palace of Sighs", is a narrow building filled with windows covered with sandstone lattices, allowing the harem members to see the street without being seen.




| | |
| --- | --- |
| | |
| Mubarak Mahal, or Welcome Palace | Courtyard gate |
| | |
| City Palace seen from courtyard | Diwan-i-Khas, or Hall of Public Audience |


The large silver vessel in the last picture above is 1.6m tall. The Maharajah Madho Singh II (1750- 1768), not trusting British water, used it and another one like it to haul holy water from the Ganga to London when he went there on a visit.

The Maharajah Sawai Jai Singh (1699-1743) was also an astronomer and built observatories in Jaipur, Delhi, Varanasi and elsewhere. The largest one is in Jaipur and is called the Jantar Mantar. It contains a number of enormous instruments for predicting eclipses, measuring the time and so forth. The accuracy of some of these instruments is amazing.


View of Jantar Mantar
City Palace seen across a sundial
The great sundial


One day, we came across a street festival, some sort of Hindu religious observance. With colorful flags and clothing, decorated animals (elephants, camels and horses), rhythmic brass-band music and lively dancing, the joy of the celebration was intoxicating. We refrained from joining in, though.



| | |
| --- | --- |
| | |
| Festive flags and dancers in this religious parade | Camels and horsed dressed in their finery |
| | |
| The music | Colorful saris |
| | |
| Dancing and music go with Hindu religious ceremonies - wonderful! | More dancers and more joy |


On to our visit of Amber Fort.

Back to Impressions of India